ROCK Six-finger Linkage Bluetooth 4.0 Touch Auxiliary Gamepad for iOS System (Black)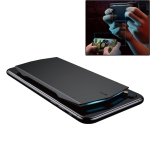 Description
1. Touch-type gamepad, connected via Bluetooth, without affecting native operation, enabling high sensitivity and fast response.
2. No need for high-frequency hand speed to achieve SKS point bursting.
3. Configure the fancy gun macro definition, one-button assisted automatic gun, precise shooting.
4. Six-finger linkage, the keys are set by themselves.
5. Freedom of two fingers, flexible operation does not block the screen.
6. Support for games such as Jedi survival, king glory and so on.
7. Also has more features such as taking photos, navigating, reading and more.
8. M+ APP boot operation.
Product specifications:
1. Bluetooth version: 4.0.
2. Product size: 133x68x5.4mm.
3. Support operating system: iOS (Android does not support).
4. Battery capacity: 450mAh.
5. Charging time: 1 hour.
6. Working current: less than 10mAh.
7. Charging voltage: 4.2V/1A.
8. Duration: 56 hours.
9. Temperature range: 0-50 degrees Celsius.
10. Product weight: 59g.
11. Material: Matte PC.
More Pictures

Pack All Images and Download