REMAX RC-110m Micro USB Fast Charging Aluminum Alloy Wave Spring Tube Data Cable, Length: 1m(Gold)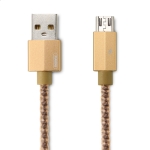 Description
1. Fast transfer, large file transfer in seconds.
2. Fast charging, turbulence protection, does not hurt the phone.
3. High-purity aluminum alloy forging, industrial grade durability, oxidation resistance and rust.
4. Pure copper wire core, effectively improve data transmission efficiency, safe and stable, and long service life.
5. The outer part of the wave spring tube is rust-free, resistant to pulling, anti-winding and easy to store.
Product specifications:
1. Material: aluminum alloy.
2. Transmission: 480Mb/S.
3. Line length: 1m.
4. Net weight: 41g.
More Pictures

Pack All Images and Download