GS-551 9V QC3.0 QI Wireless Fast Charging Charger, Size: 6.3x4x2.2cm (White)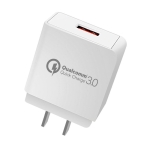 Description
Product name: QC3.0 fast charger
Product specification: American standard/Chinese standard pin
Product color: white and black (customizable)
Dimensions: 63x40x22mm
Product weight: 46.2g
Input voltage: AC 100-240v 50-60hz
Output voltage: DC 3.6V – 6.0V – 3.0A
6.0 V – 9.0 V – 2.0 A
9.0 V – 12.0 V – 1.5 A
Output power: 18W
Operating temperature: 0-50 degrees
Output ripple & noise: 80-120 MVP
Output protection: short circuit protection, over voltage protection, over charge protection, over heat protection
Protection function: overload protection 105%-150% of the rated power, automatic protection
Applicable products: smart phones, tablet computers, digital electronics and other devices.
Product certification: 3C CE, FCC PSE ROHS
Product features:
1. Good safety performance, high reliability, completely in accordance with the standards and procedures for safety certification.
2. The shell is made of flame-retardant material, which is safer and damp-proof and dust-proof.
3. Full current, full power, shorter charging time.
4. Ultra-low no-load and standby energy loss, in line with national energy saving standards.
5. Good anti-interference performance, built-in anti-electromagnetic interference filter.
6. Wide input voltage range, all 100-240v, in line with global standards.
7. The primary insulation performance is good, and the high-frequency transformer is 100 percent of vacuum impregnated.
8. Full load high temperature burning machine, 100% aging test.
9. Over voltage, over current, over power, short circuit protection function.
10. All materials are free of six toxic substances, cadmium, chromium, lead, mercury, PBB and PBDE, which are restricted in Europe (not exceeding the prescribed limits).
More Pictures

Pack All Images and Download