D79 IP68 Waterproof GPS+LBS Pet Locator Pet Collar Tracking Device(Black)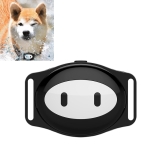 Description
Functions:
1. GPS+WiFi+LBS Three Positioning Ways: If the gps signal is good, the device will locate via gps satellite, if not, the device will locate via WiFi and LBS! Under GPS locating mode, the accuracy is 5-10 meters, under WiFi locating mode, the accuracy will be 10-30m; under LBS locating mode, the accuracy is 100-1000 meters!
2. Realtime Tracking: You will can realtime track the device on google maps via mobilephone, tablet and computer, and the minumum data upload interval is 10 seconds!
3. History Route Playback: The APP and web server can record the upload data of the device up to 90 days, you will can playback the history route at any time!
4. Long Working Time: It has built-in 420mAh Li-ion battery, can last 50 hours if upload every 1 minute; can last 70 hours if upload every 10 minutes; can last 90 hours if upload every 1 hour!
5. Fast Charging: Using fast charging technology, the device can be fully charged by just 1 hour !
6. Waterproof: The waterproof level of this device is IP68, this is swimming class waterproof level!
7. Voice Call: Turn on voice call, push to talk, record 15 seconds and send to the device, it will automatically play the record for the pet! You also can call to the SIM number in the tracker to talk to your pet.
8. Voice Monitoring: Click the "Voice Monitor" menu in the APP, enter your mobile number, click confirm, the device will dial your number, then you will can pick up the call to hear the surrounding voice around the device, the pet can't hear voice status of your mobile.
9. Safety Zone: Set up a geofence for the tracker to restrict its movements within a district. The unit will send alarm information to APP and web server when it goes out of or get in this district. The Minimum radius of the fence is 200 meters.
10. Feeding Reminder: Set up three feeding reminding time. When time is up, the device will make a noise to remind you and pet
11. Sound-light Pet Finding: When you are walking the dog outside in the dark, operate the instruction, the device will prompt the pet location using sound and flashlight.
12. Remote Recording: When you want to know the surrounding voice condition of pet, operate the instruction, the device will automatically record 15 seconds and send to mobile client.
13. Low Battery Alarm: When the backup battery is lower than 10% the device will send alert message to the pre-set admin number!
14. Remotely Turn Off The Device: You will can remotely turn off the device via the APP.
15. Phone Book: You can set multiple numbers as the white list, then those numbers also will can monitor the pets except the admin number!
16. Web Tracking Platform and Mobile APP: LIFETIME FREE USING RIGHT!
Specification:
1. Dim: 60(L) x 45(W) x 20(H) mm
2. Weight: 28g
3. Network: 2G GSM/GPRS
4. Band: 850/900/1800/1900Mhz
5. GSM/GPS Moduel: MT2503A, noise reduction technology guarantee HD voice call quality
6. GPS sensitivity: -159dBm
7. GPS accuracy: 5m
8. Wall charger: 110-220V input 5V-1A output
9. Battery: Chargeable 3.7V 10000mAh Li-ion battery
10. Standby time: 5 days
11. Working time: 50 hours if upload every 1 minute, 70 hours if upload every 10 minutes, 90 hours if upload every 1 hour
Specification:
Package Weight

| | |
| --- | --- |
| One Package Weight | 0.18kgs / 0.39lb |

| | |
| --- | --- |
| Carton Weight | 9.60kgs / 21.16lb |

| | |
| --- | --- |
| Carton Size | 43cm * 43cm * 20cm / 16.93inch * 16.93inch * 7.87inch |
More Pictures

Pack All Images and Download